ABRO Spray Paint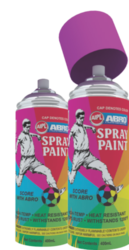 ABRO Spray Paint
Price And Quantity
Product Specifications
High Voltage Volt (v)

Overhead, Industrial
Product Description
ABRO spray paint is a popular brand of aerosol paint designed for easy and convenient application on various surfaces. It is widely used in automotive, DIY projects, industrial applications, and artistic endeavors. ABRO spray paint offers a wide range of vibrant colors and finishes, providing a durable and professional-looking coating that enhances the appearance and protection of the painted object.
FAQ:
Q: What is the purpose of ABRO spray paint?
A: The primary purpose of ABRO spray paint is to provide a quick and efficient method of applying paint to various surfaces. It is used to add color, enhance aesthetics, and provide a protective coating. ABRO spray paint is suitable for a wide range of applications, including automotive refinishing, touch-ups, crafts, and general surface coating.
Q: How does ABRO spray paint work?
A: ABRO spray paint is contained in a pressurized can that releases a fine mist of paint when the nozzle is pressed. The paint particles adhere to the surface, forming a smooth and even coating. ABRO spray paint is designed to dry quickly and provide good coverage, allowing for easy application and excellent results.
Q: What surfaces can ABRO spray paint be used on?
A: ABRO spray paint can be used on a variety of surfaces, including metal, wood, plastic, and ceramics. It is commonly applied to automotive parts, furniture, home decor, DIY projects, and industrial objects. Proper surface preparation, such as cleaning and priming, may be necessary for optimal adhesion and durability.
Q: Is ABRO spray paint durable?
A: Yes, ABRO spray paint is formulated to provide a durable finish. It is designed to withstand various environmental conditions, including UV exposure, moisture, and temperature changes. However, the longevity of the paint's durability also depends on factors such as surface preparation, proper application techniques, and the level of wear and tear the painted object is subjected to.
Q: Can ABRO spray paint be used indoors?
A: ABRO spray paint can be used indoors, but proper ventilation is important. Adequate airflow is necessary to dissipate the fumes generated during spraying. It is recommended to work in a well-ventilated area or use additional measures such as fans or open windows to ensure a sufficient fresh air supply.
Trade Information
Telegraphic Transfer (T/T), Cheque

120 Per Day
2-3 Days

Western Europe, Asia, Australia, North America, Eastern Europe, Middle East, Central America, South America, Africa