Earthing Hook Stick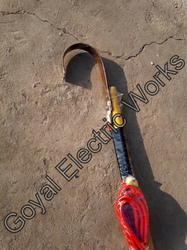 Earthing Hook Stick
Price And Quantity
Product Specifications
Other

Earthing Hook Stick
High Voltage Volt (v)

Overhead, Industrial
Product Description
An earthing hook stick, also known as a grounding hook stick or grounding rod stick, is a specialized tool used in electrical grounding and earthing systems. It is designed to facilitate the safe and efficient connection of grounding conductors or cables to grounding electrodes, such as ground rods or grounding plates. The earthing hook stick allows operators to establish a reliable electrical connection without direct contact with the grounding components, ensuring safety during installation or maintenance procedures.
FAQ:
Q: What is the purpose of an earthing hook stick?
A: The primary purpose of an earthing hook stick is to safely establish electrical connections between grounding conductors and grounding electrodes. It enables operators to handle and manipulate grounding cables or conductors from a safe distance, minimizing the risk of electric shock during the earthing process.
Q: How does an earthing hook stick work?
A: An earthing hook stick typically consists of a long, insulated handle with a specially designed hook or clamp at the end. The hook or clamp securely attaches to the grounding conductor, allowing the operator to position it onto the grounding electrode. By manipulating the hook stick, operators can safely and accurately establish the electrical connection.
Q: Where are earthing hook sticks commonly used?
A: Earthing hook sticks are commonly used in various industries, including electrical utilities, construction, telecommunications, and industrial facilities. They are particularly useful during the installation, maintenance, or testing of grounding systems, ensuring that proper electrical safety measures are followed.
Q: Are all earthing hook sticks the same length?
A: Earthing hook sticks come in various lengths to accommodate different operational requirements. The length of the stick depends on factors such as the distance between the operator and the grounding component, the specific application, and the accessibility of the grounding electrode.
Q: Are earthing hook sticks insulated for safety?
A: Yes, earthing hook sticks are specifically designed with insulation materials, such as fiberglass or composite materials, to provide electrical insulation and ensure operator safety. The insulation prevents electric current from passing through the stick to the operator, reducing the risk of electric shock during use.
Trade Information
Telegraphic Transfer (T/T), Cheque

1 Per Day
2-3 Days

South America, Western Europe, Asia, Australia, North America, Eastern Europe, Middle East, Central America, Africa