Frysol Paste Flux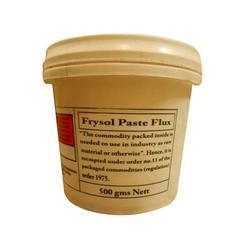 Frysol Paste Flux
Price And Quantity
Product Specifications
High Voltage Volt (v)

Industrial, Overhead
Product Description
Frysol paste flux is a type of flux used in soldering applications to promote the flow of solder and improve the quality of the solder joint. It is commonly used in electronics, plumbing, and metalworking industries. Frysol paste flux is formulated with a combination of active ingredients that remove oxides, contaminants, and other impurities from the metal surfaces, allowing the solder to bond effectively and create strong connections.
FAQ:
Q: What is the purpose of Frysol paste flux?
A: The primary purpose of Frysol paste flux is to facilitate the soldering process by preparing the metal surfaces for soldering. It removes oxides and contaminants from the surfaces, allowing the solder to flow and bond properly, resulting in strong, reliable connections.
Q: How does Frysol paste flux work?
A: Frysol paste flux works by chemically reacting with oxides and other impurities on the metal surfaces. The flux's active ingredients dissolve or remove these oxides, creating clean surfaces that are more receptive to solder. Additionally, the flux helps prevent further oxidation during the soldering process.
Q: When should Frysol paste flux be used?
A: Frysol paste flux should be used whenever soldering is performed on metal surfaces. It is particularly useful when soldering copper, brass, or other metals that tend to form oxides on their surfaces. Frysol paste flux ensures a reliable soldering process by promoting proper wetting and flow of the solder.
Q: How is Frysol paste flux applied?
A: Frysol paste flux is typically applied directly to the metal surfaces before soldering. The flux is spread evenly over the areas to be soldered using a brush, applicator, or by dipping the components into the flux. The flux should cover the entire soldering area, ensuring proper contact between the flux and the metal surfaces.
Trade Information
Telegraphic Transfer (T/T), Cheque

10 Per Day
2-3 Days

Australia, North America, South America, Eastern Europe, Western Europe, Middle East, Asia, Central America, Africa