GOAB Switch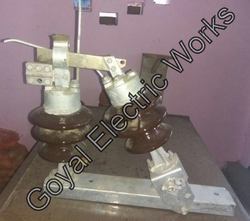 GOAB Switch
Price And Quantity
Product Specifications
High Voltage Volt (v)

Industrial, Overhead
Product Description
GOAB (Get-Operate-And-Break) Switch, also known as a Load Break Switch or Air Break Switch, is an electrical switch used for the isolation and manual disconnection of electrical circuits. It is commonly found in power distribution networks, substations, and industrial installations. The GOAB switch is designed to safely interrupt the flow of current, providing a reliable means of controlling power supply.
FAQ:
Q: What is the purpose of a GOAB Switch?
A: The primary purpose of a GOAB Switch is to provide a means for isolating and disconnecting electrical circuits. It allows for the safe operation and maintenance of electrical systems by interrupting the flow of current. The GOAB Switch is commonly used to de-energize specific sections of power distribution networks, substations, or industrial equipment for maintenance, repairs, or safety purposes.
Q: How does a GOAB Switch work?
A: A GOAB Switch operates by physically separating the electrical contacts to interrupt the current flow. It is designed to withstand the voltage and current ratings of the circuit it is installed in. By manually operating the switch, it can be moved to an open position, breaking the circuit and isolating the connected electrical components or sections.
Q: In which applications are GOAB Switches commonly used?
A: GOAB Switches are commonly used in power distribution networks, electrical substations, industrial plants, and other electrical installations. They are found in various applications, including overhead power lines, distribution transformers, ring main units, switchgear, and control panels. GOAB Switches are utilized wherever manual isolation and disconnection of electrical circuits are required.
Q: What are the advantages of using a GOAB Switch?
A: GOAB Switches offer several advantages, including reliable operation, ease of use, and robust construction. They provide a manual means of disconnecting electrical circuits, allowing for safe maintenance, repairs, and system upgrades. GOAB Switches are typically built to withstand harsh environmental conditions and have a long service life.
Q: Can GOAB Switches handle high-voltage applications?
A: Yes, GOAB Switches are available for a wide range of voltage levels, including high-voltage applications. They are designed to meet specific voltage ratings and can handle the electrical loads associated with various voltage classes. It is essential to select the appropriate GOAB Switch with the correct voltage rating to ensure safe and reliable operation.
Trade Information
Telegraphic Transfer (T/T), Cheque

1 Per Day
2-3 Days

South America, Western Europe, Australia, North America, Eastern Europe, Middle East, Central America, Asia, Africa